1987 Donruss The Rookies
Description
1987 Donruss The Rookies is a 56-card boxed set released exclusively to Hobby dealers in a small green and black box. The design on the set is identical to the 1987 Donruss regular issue except for the presence of "The Rookies" logo in the lower left corner and a green border instead of a black border. Each set also came packaged with a 15-piece miniature version of the Roberto Clemente puzzle.
The key XRCs in this set are Ellis Burks and Matt Williams. The second Donruss-issued cards of Greg Maddux and Rafael Palmeiro are also in this set. Much like with the Wally Joyner in the '86 set, the Mark McGwire card is quite condition sensitive due to it being the first card in the set.
Distribution
56 card boxed set (including a Roberto Clemente puzzle). Hobby Only. 60 sets per case.
Reviews
Checklist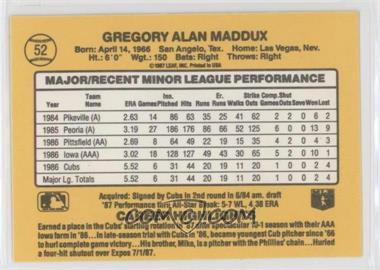 1 Mark McGwire
2 Eric Bell
3 Mark Williamson
4 Mike Greenwell
5 Ellis Burks XRC
6 DeWayne Buice
7 Mark McLemore
8 Devon White
9 Willie Fraser
10 Les Lancaster
11 Ken Williams
12 Matt Nokes XRC
13 Jeff M. Robinson
14 Bo Jackson
15 Kevin Seitzer XRC
16 Bill Ripken
17 B.J. Surhoff
18 Chuck Crim
19 Mike Birkbeck
20 Chris Bosio
21 Les Straker
22 Mark Davidson
23 Gene Larkin XRC
24 Ken Gerhart
25 Luis Polonia XRC
26 Terry Steinbach
27 Mickey Brantley
28 Mike Stanley
29 Jerry Browne
30 Todd Benzinger
31 Fred McGriff
32 Mike Henneman XRC
33 Casey Candaele
34 Dave Magadan
35 David Cone
36 Mike Jackson
37 John Mitchell XRC
38 Mike Dunne
39 John Smiley XRC
40 Joe Magrane XRC
41 Jim Lindeman
42 Shane Mack
43 Stan Jefferson
44 Benito Santiago
45 Matt Williams XRC
46 Dave Meads
47 Rafael Palmeiro
48 Bill Long
49 Bob Brower
50 James Steels
51 Paul Noce
52 Greg Maddux
53 Jeff Musselman
54 Brian Holton
55 Chuck Jackson
56 Checklist 1-56